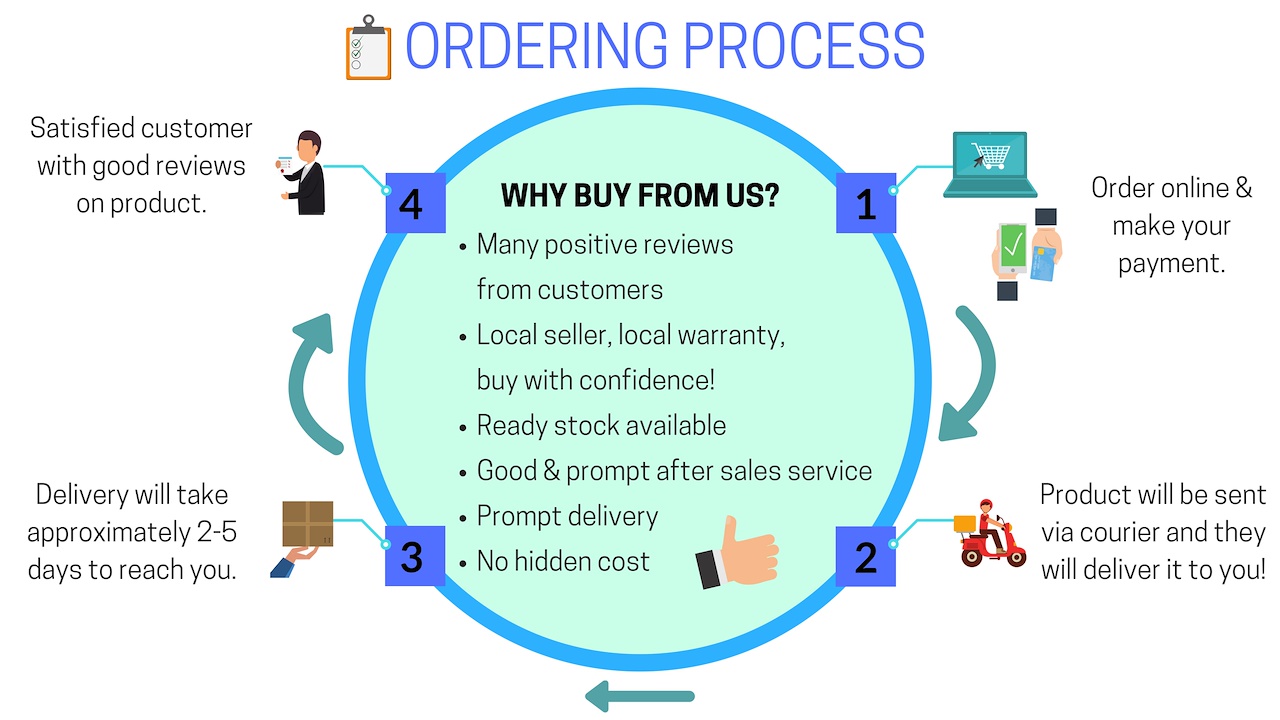 WHO IS ROBOTGURU PTE LTD?
We are a Singapore local company distributing robotic products for household since 2014. We curate and test all the products and brands we carry extensively before making them available to our customers.
Our customers enjoy our products and appreciate our good after-sales services and local support. They've given us hundreds of good reviews and referrals and we are proud of that. =)
To date, we are serving thousands and thousands of customers, we are on track to serve a million customers in the next few years. Our mission is to put a robot in every household in Singapore, freeing people from chores! Let's help us achieve that.
HOW DO I ORDER & MAKE PAYMENT?
You can order via our website shopping cart directly and make payment from there.
We accept Credit Card & PayPal on our website. We accept Cash, Bank Transfer, PayNow and PayLah for Self Collection at warehouse and for Cash on Delivery orders.
DO YOU PROVIDE WARRANTY?
Yes. We provide 1 year Singapore warranty covering all manufacturer defects.
HOW LONG IS THE DELIVERY? IS IT FREE?
Standard Delivery (Free): Typically deliver within 1-3 business days in Singapore.
Express Delivery: Typically deliver 0-1 working days (same day or next day) or a preferred date and time slot specified by the customer at the check out. Please top up additional fee for Express Delivery.
CAN I SELF COLLECT THE ITEM?
Yes. You can self collect the product at our warehouse. Please arrange an appointment with us first before coming down for self collection. Payment for self collection will be by Cash, PayNow & PayLah.
DO YOU ACCEPT CASH ON DELIVERY?
Yes. For Cash on Delivery, please contact us at +65 88226668 ( WhatsApp / text / call ).
DO YOU PROVIDE LIVE DEMO OF THE PRODUCTS AT YOUR OFFICE?
To keep prices low, our products are distributed mainly via online channels and via warehouse direct sale. Due to high demand for our robots, we are unable to provide live demo for customers.
Please refer to the product demo videos on our website or Facebook page to see how it performs in real life. You can also check out hundreds of our Singapore customers' reviews.
English manual and short instructional videos will be sent to you to guide the set up process which is really simple. Plug and play. =)
CAN I SEE THE PHYSICAL PRODUCT?
We mostly do delivery. If you must see the physical product, you can opt for self collection at our warehouse.
We can open the box for you to see the product, but we are unable to let it run around for demonstration. Please refer our product demo videos for how it works in real life.
WHERE TO BUY ACCESSORIES OR SPARE PARTS?
You can buy accessories or spare parts from us directly.
WHERE ARE THE PRODUCTS MADE IN?
Ecovacs Deebot is a top 5 international brand for robotic vacuum cleaner. It won multiple USA CES innovation and Red Dot design awards. It sells its products in USA, Europe and Asia. It is also the number 1 robot brand in China with 500 stores. The robotic vacuum cleaner is manufactured in China with millions units sold worldwide.
ILIFE is a top 10 international brand for robotic vacuum cleaner. It sells its products in USA, Europe & Asia. It is similar to Ecovacs Deebot in terms of product quality and company capabilities.
DOES IT WORK ON CARPETS?
Yes. It works on short-pile carpet but not on long-pile carpet or any carpet that is thicker than 1.5 cm.
IS IT ABLE TO CLEAN PET FUR?
Yes, it does the cleaning very well.
DO YOU HAVE READY STOCK?
Yes, we have ready stock in our Singapore warehouse.
HOW DO I CONTACT YOU?
Please contact us at +65 88226668 ( WhatsApp / text / call )