Started since 2014, our company's core values have been, 1) quality robots, 2) reasonable prices, 3) good customer service, 4) honest business practices.
We are happy to say, after so many years, we are still true to our core values!
Please check out our Singapore customers' reviews below to learn more =)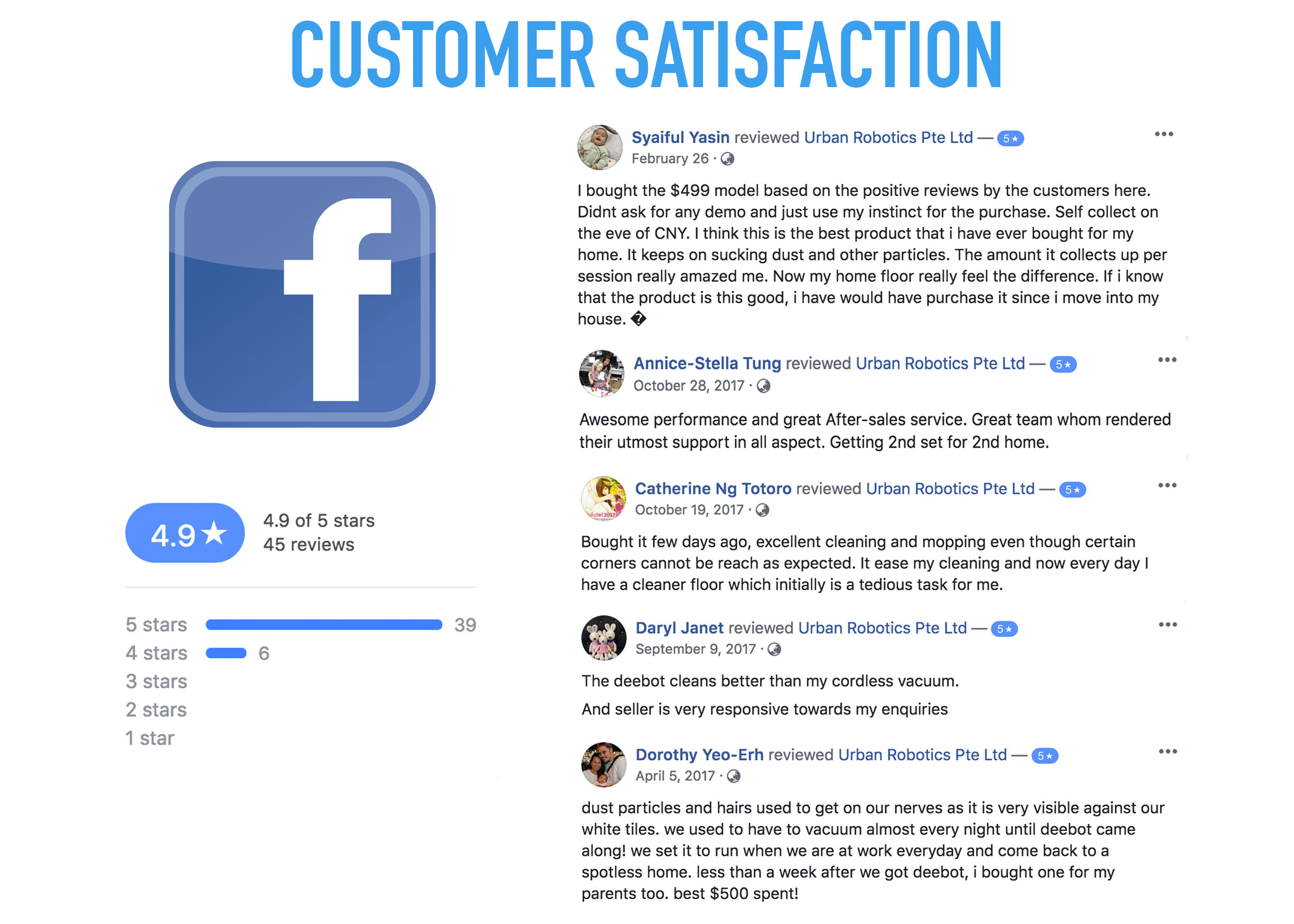 Find out our Facebook reviews here!
New FB Page: https://www.faebook.com/robotgurusg/reviews/
Previous FB Page: https://www.facebook.com/urbanroboticssg/reviews/
Find out our Qoo10 reviews here!
http://www.qoo10.sg/gmkt.inc/Mobile/My/Reviews.aspx?goodscode=426175729&global_order_type=L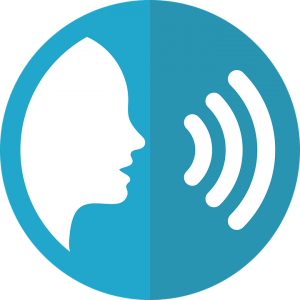 "One of the best purchase I had after moving into my new hdb home. Schedule the robot to clean the house everyday at 2pm while no one is at home. And the floor will be clean when I get home, free of hair or dirt! Highly recommended and it is cheap as compare to models like Samsung which will likely cost nearly $1000. The boss is friendly and super prompt in reply."
– Meiizhuo.
"It works automatically in the background daily keeping my house clean. Every time i opened the bin to empty it, I am amazed how much dirt and dust it sucks up daily. It is easy to clean the robot with the tools provided. A device that is both useful and increased our quality of life.
Definitely will recommend my friends to get one too."
– Jim Phang.
"Good product. had one similar product before which is cheaper but not doing the job well.. sometime can't find the way home or stuck somewhere. and this iLife just works great, mopping function is cool. love it so much. 100% recommended."
– Mingli Poh.
"I bought the $499 model based on the positive reviews by the customers here. Didn't ask for any demo and just use my instinct for the purchase. Self-collected on the eve of CNY. I think this is the best product that I have ever bought for my home. It keeps on sucking dust and other particles. The amount it collects up per session really amazed me. Now my home floor really feels the difference. If I know that the product is this good, I have would have purchase it since i move into my house."
"Bought a set for my home and later on got another one for my mother in law. Been using for a while, it is quiet and cleans well. Seller is prompt with my queries on how to set up and offer maintenance tips. Will recommend it to my friends. Thanks Andy for the recommendation and service!"
– Xiaolong H.
"After using it for 3 weeks: Suction very good. Dust sucked out from under the bed from our 3 bedroom. Power is also lasting.
I used 15mins x 3 bedrooms + 20mins for hall + 10 mins for kitchen every day. Wet clean is as good.
Floor is clean and non-sticky after cleaning. Amazing result and I have recommended friends to buy it."
– Ren***, Qoo10 Customer.
"Deebot has been such a blessing as it frees up time for my husband and I to spend quality time with the baby.
I love that we can set it clean while we are at work.
It's also very thorough and picks up extremely fine dust in our house.
I also love the wet mop function and there aren't many brands with this.
In future though when we are ready to upgrade, I'm sure to buy this again."
– Mei Jun
"Good customer service and reasonable price. Got this for my mom and she simply love it so much. So much cleaner than self sweeping and save lots of time."
– Candy Ong.
"It is user friendly and very efficient. And more obedient than my dog. The tech support was most helpful when I encountered a slight issue with the robot, and they swiftly solved the problem. I always believe that a product's price is only justified by how good the after-sales support is.
Based on my experience, I'm now thoroughly convinced that this robot was a worthwhile investment.
Thanks guys. I totally appreciate the help. Keep up the good work."
– Jerome Jeronmino
"It works autonomously in the background keeping your house spick and span. No complaining and whining. Occasionally needing help to empty the bin. Every time I opened the bin to empty it, I am amazed how much dirt and dust it sucks up daily. Truly a device that is both useful and increased our quality of life.
Definitely will recommend anyone to get this."
– Alan Tan
"Able to clean the floor very well. One key for me is the height of this cleaner; it's probably the only one out there in the market which is low enough to go under my sofa. And that's a major plus. All in all, a very good product. Not forgetting great customer service, especially prompt with answers to my queries."
– Desmond Check
"I've been reading up on robot vacuums for a while, was quite reluctant to splash $500 on it consider a traditional vacuum only $100. Called up seller and he gave a very detail explanation of the different models & features out there on the market. Decided to give it a try. now i'm using it daily. Kudos to the seller and the robot! Best investment ever!"
– Lazada Customer.
"An excellent gadget at home for my elderly parents. I no longer have to struggle between caring for my toddler, trying to clean the floor and having a decent conversation with my parents when i am home. Sometimes, deebot helps me when my child refuses to have his meal too! Will continue to recommend deebot!"
– Yeo Min
"Dust particles and hairs used to get on our nerves as it is very visible against our white tiles. we used to have to vacuum almost every night until deebot came along! We set it to run when we are at work every day and come back to a spotless home. Less than a week after we got deebot, I bought one for my parents too. Best $500 spent!"
– Dorothy Yeo
"Among all the electrical appliances in the house, I must say that this is by far one of my favorite. It operates on its own with minimal supervision and does the job better than manual vacuuming with minimal effort on your part. The only effort required on your part is that you must make sure that the house is free of mats, loose wires, plastic bags or anything that can get caught in the motors.
A typical set up of the system would look like this:
1. Keep all mats, loose wires, plastic bags off the floor
2. Clean the filter
3. Set the robot off
All these can be completed within minutes or less and your robot would easily last a few hours on its own. When it's low on battery, it would head to its docking station on its own. Friends and relatives who have visited often make the comment that it's evident we do our housework, which is testament of the quality assured this little robot can deliver. For the busy people, this is a must have."
"I bought one (without the mopping function) a year ago and it is still serving me well.
Saves me a lot of time vacuuming the whole house especially cleaning areas like under my bed and sofa. Its suction power is also surprising good. I was amazed by the amount of dust and hair it could capture. Very good buy for those on a budget! The sellers were also kind enough to deliver it to my place and fixed it for me. Thanks a lot!"
– Tan Li Hui
"Just bought this from a seller. The guy is friendly and helpful. Don't know some of the functions and he responded to me immediately. Overall I like the cleaner give 4 out of 5 stars.
1) Cleansed every area of living room and bedroom.
2) Take a while to go back to its auto docking station.
3) Really clean every inch area especially my home has small obstacle items at the floor but this helper still able to squeeze itself to clean the floor! Bravo."
– Victor Chan
"The deebot automatic vacuum cleaner is indeed very helpful and cleans very well. We were very surprised by the amount of dust it picks up every day the best thing is that it cleans automatically. Now we get to enjoy more free time and spend less time cleaning every day. Price is reasonable for the quality and effectiveness!"
– Tan Han Boon
"Bought it few days ago, excellent cleaning and mopping even though certain corners cannot be reach as expected. It ease my cleaning and now every day I have a cleaner floor which initially is a tedious task for me."
– Catherine Ng
"Deebot is an amazing little helper! Impressed with the amount of dust collected. Also, this product is idiot proof- so easy to operate. Seller is friendly and provided the necessary information i needed through whatsapp. Highly recommend Deebot!"
– Diah, Lazada Customer.
"Fast, quiet and efficient robot cleaner. Observed it manages to jump over obstacles to do cleaning. Family members commented that the floor feels mopped even though it is just a vacuum. Have yet to use the mop function – will try soon."
– Eva Phoon
"Quite quiet compared to some other brands I have researched and experienced. Delivery was v fast. Received within 2 days from order. Seller was v prompt in sending me the manuals in English."
– Ste***, Qoo10 Customer.
"This is the 1st robot cleaner I used. I tried and found both vacuum and mop functions effective. It navigates around without needing any intervention. I can watch TV without affected by the noise. Overall, very satisfied with this buy."
– Tbe***, Qoo10 Customer.
"Quiet and efficient. cleaned out the hair debris and fur after every session and i'm still amazed at how much it picks up even though the floor looks clean to start with."
– Daz***, Qoo10 Customer.
"Very fast delivery and seller even sent whatsapp msg to confirm delivery and also send introductory videos of the robot vacuum as well as the English manual. Have just used it for a day. Looks good thus far and robot found its way back to charging station. Timer settings only for time to start per day and doesn't allow day of the week settings. Hope it last."
– Christopher Cheah
"I didn't write a review for them initially because when a company wants to sell you something they will naturally be good to you.
I wrote this now is because of their after sales service! Bought 3 units from them but 1 of them encountered a slight problem after few months. Their excellent after service is something for me to praise about, strongly recommended!"
– Kai Sheng
"Super speedy delivery. Works really well! The floor feels very clean and my parents are very happy about it! Hope it lasts because I love it. Really effective for dog fur and dust. Thank you!"
– Sumita Thiagarajan
"Just got this recently and the seller were very polite and efficient. The machine was easy to use, it is really plug and play and setup was very simple. The noise level was low when it was vacuuming the house. It a great product."
– Chen Zhi Qiang
"Received it within 3 days as mentioned. Very easy to use, does the job well and it's not loud at all.
You can even use it even during your sleep.
The only issue is the water tank is not enough for 5-room flat.
Need to refill it for a few times. Overall, we love it so much."
– Adeline Lau
"Been using it for 1 mth…. doing its job really well. Set the timing to start everyday in the evening and we always come home to a clean floor with no dusty feeling anymore… recommended it to my family and friends."
– Yen Tatts
"Awesome product!! Have been using it for a couple of months and
it really helped working adults like us with minimal time for sweeping or mopping !!
Definitely recommend this great product to my friends n family !!"
– Patricia Chuang
"It is so easy to use. The fact that it cleans while we are at work is just splendid. We worked well together on weekends too. Deebot really saves my time on cleaning. Good job!
My favourite electronic item in the house."
– Eshal Eva
"Highly recommended!! Good deal & value for money. It helps to keep my floor clean & smooth.
Very impressed by it & even my Hubby & Father in law praised it. Super like!!
**Seller is very helpful to my inquiries when I called him. Thanks Andy!"
– Joyce Lim
"Great product. Efficient and easy to use.
Really help pick up hairs and fur with pets around shedding. It is also fairly quiet. My first robot." 
– Georgia Hong
"This robot is very thin, go under my sofa easily, and it is very quiet compare to some of the brands I tested. I use this every day now, the wet mop works too, good price!"
– Lazada Customer.
"This is the 2nd time I am buying this and it's for my mother.
The deebot is really good! My floor is always clean and free from dirt."
– Jason Chan
"Good response from seller. That's what people need when they buy from social media.
You have a good product as well that does the job.
I bought both the old and new models and recommended a couple of friends."
– Chris Seah
"After few days of using it, I love it. It's so smart getting itself out of trouble 90% of the time. Even on high pile rug. Only problem it has is wires/loose cloth. Which I guess all robotic cleaner have. Its find home function works flawlessly. Left it to run while I went to work. Monitor it using my home camera and when I'm home, its docked n charged after a full clean.
It is relatively quiet but sucks up quite a bit of dust.
Navigation around the house is good too. It seems to know where was cleaned where wasn't. You can manually move it to certain location with the remote control too. I've purposely set it up under the table with chairs. It was a complicated route but it went around the legs sweeping all little corners before finding its way out again.
Did I mention it can climb the curb into HDB toilet? Although sometimes the climb isn't successful but it will get itself unstuck n try again.
Overall I'll rate this 9/10. I've seen other robot and it isn't that smart. Yet to compare it to a Roomba though. Ultimately it will take time to find base or get itself out of a maze but it will!"
"Helpful seller provided additional info to ease into use of product. Fairly Easy to assemble.
Does the vacuum job quite well. Quiet. Good product."
– George Teng
"Great product!! Have been using for a month & it is very convenient,
I don't need to vacuum & mop the floor anymore because I have a great helper."
– Silver Lee
"Delivery was very prompt. Machine is lighter than my roomba.
Its slimmer in height compared to roomba."
– Patrick Chan
"Bought last month, so far so good and surprisingly low noise. Cleans pretty well too."
– Keng Gee Lau
"very useful for a dusty home.. what's more, you can use it everyday =)"